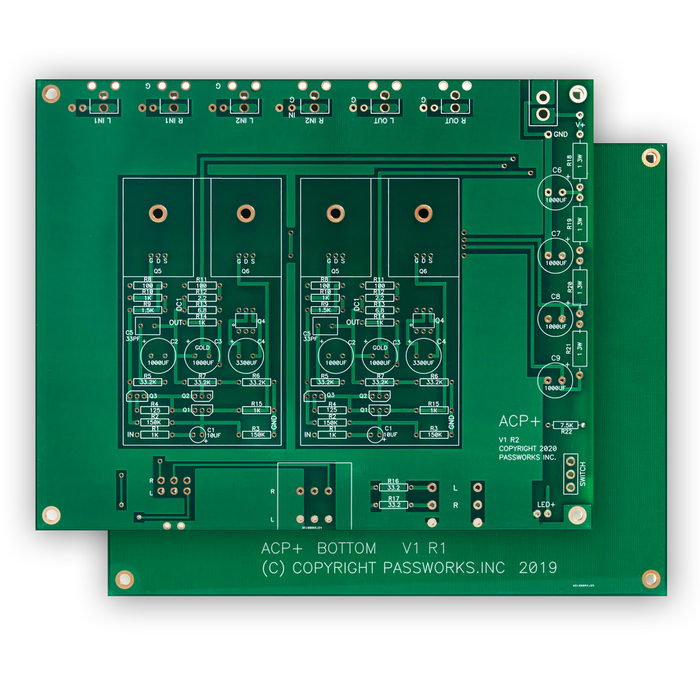 ACP+ (Amp Camp Pre-Amp + Headphone Amp)
Original price
$ 25.00
-
Original price
$ 199.00
Availability:
in stock, ready to be shipped
Availability:
Out of stock
Availability:
Out of stock
This is the ACP+ (Amp Camp Pre-Amp + Headphone Amp) PCB, as built at Burning Amp Festival in 2019.
PCBs ($25)
The pre-amp PCB along with the ground plane are available for purchase (gold traces, 2oz copper). Previously we offered the ability to purchase these separately, but since 99% of customers bought both anyway we have bundled them together allowing for a modest price reduction.
The ground plane allows you to build it naked just like they did at BAF.
Both boards are 8" (W) x 6.5" (L) or 203.2mm (W) x 165.1mm (L).
Parts Kit ($179)
This kit of 122 parts across 48 line items includes everything you need to build a "naked" ACP+ ("naked" meaning there is no chassis).
Notably it includes the matched quad of Toshiba 2SJ74-GR JFETs as well as an alps "Blue Velvet" potentiometer.

Nelson's recommended Triad "wall wart" style power supply is included, which accepts input voltages of 90-264V and has US-style power prongs (if your country uses a different style of prong you will need an adapter).
Please see note below about the parts used in the photographs on this page.
Full Naked Kit Bundle ($199)
A full kit bundle includes the pre-amp PCB, ground plane PCB, parts kit, and JFETs.
Links
Photos of Poet's DIY ACP+
The photos you see here on this page with the gold knob of a built-up ACP+ (taken by Thuss and Farrell) are shown to demonstrate what a completely do-it-yourself ACP+ with a colorful parts selection can look at. 
The parts shown in that photo were all chosen, stuffed, and soldered by Patrick Farrell's 10-year-old daughter, Poet. 
It did not use the parts kit sold on this page. Please refer to the parts kit photo to see what's included in the parts kit. Notably, the knob shown is a silver anodized aluminum knob from Patrick's spare-parts drawer, which was then spray painted gold by hand. This is do-it-yourself audio, let your imagination run wild.