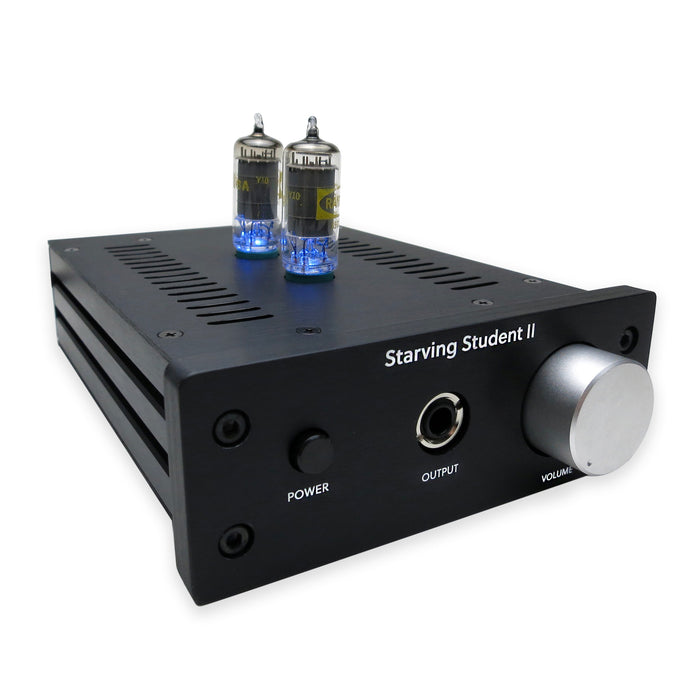 Starving Student II Headphone Amplifier
Original price
$ 0.00
-
Original price
$ 0.00
Availability:
in stock, ready to be shipped
NOTE: WE ARE RESTOCKING - NEW BATCH ARRIVING 9TH OCT 2023 - ORDERS WILL SHIP APPROXIMATELY 12TH OCTOBER
We're happy to announce the immediate availability of this new collaboration between Pete Millett and diyAudio, an updated version of the classic Starving Student.
The Starving Student II is a hybrid tube/solid state headphone amplifier and pre-amplifier. 48VDC is fed via in from a high quality universal-voltage Meanwell power adapter. It has dual RCA inputs, with a 1/4" jack for headphones and another pair of RCA outputs for use as a pre-amplifier.
BOM and schematics are inside Pete's excellent SSII assembly instructions. 6L6 has prepared a beautiful SSII step-by-step build guide. The SSII information directory contains links to every SSII resource.
Both the parts kit and chassis will ship immediately from our US warehouse at the same time. You can ask questions and discuss your build in the SSII discussion thread on diyAudio.

Features
New and improved redesign of the classic Starving Student by tube guru Pete Millett
Detailed step-by-step SSII build guide from 6L6
Can be used as a headphone amplifier or pre-amplifier
Includes two 18FX6 vacuum tubes, functioning as triodes
Choice of resistor or CCS plate loading for preferentially lower distortion or softer clipping, using a blue LED to bias CCS and light the tubes
Time delay muting circuit to allow the tubes to warm up
Sold as a complete kit with everything included


Specifications
Spec
Plate load
150 ohm load
30 ohm load
Gain (at max volme setting)
CCS
20 dB
18 dB
Resistor
17 dB
16 dB
Frequency response +/-3dB
CCS
11Hz - 40kHz
18Hz - 40kHz
Resistor
12Hz - 50kHz
20Hz - 50kHz
Frequency response 20Hz-20kHz
CCS
+/- 0.8dB
+/- 1dB
Resistor
+/- 0.8dB
+/- 1dB
THD+N 1V 1kHz
CCS
0.47 %
0.15 %
Resistor
1.8 %
1.3 %
Maximum output @ 5% THD
CCS
9.9 V RMS
2.5 V RMS
Resistor
3.1 V RMS
2.4 V RMS
We also have available a zip archive containing 12 different SSII graphs.