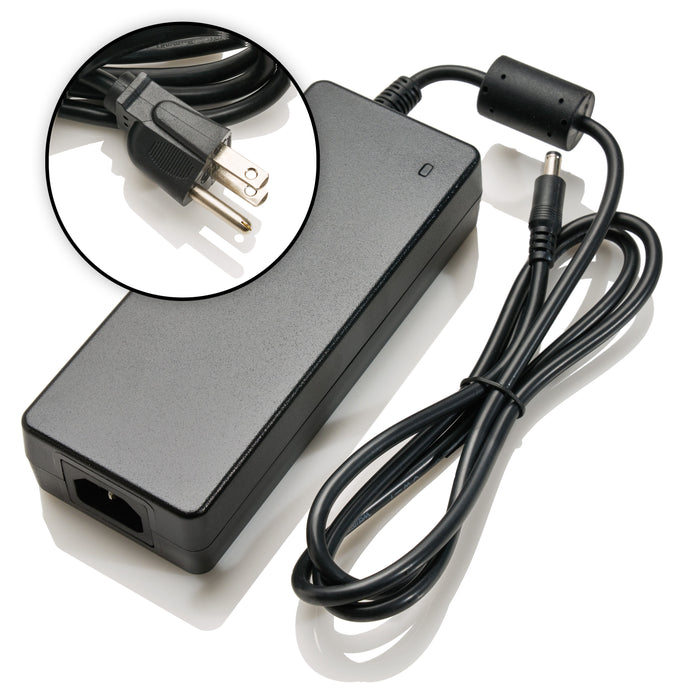 Meanwell 24V 5A power supply and power cord
Original price
$ 49.00
-
Original price
$ 49.00
Availability:
in stock, ready to be shipped
Availability:
in stock, ready to be shipped
Availability:
in stock, ready to be shipped
This is Nelson Pass's recommended power supply for the Amp Camp Amp. Now available for immediate sale.
It gives you more power and less noise than previous power supplies. It's a serious unit - twice the size and twice as heavy as the previous one.
This is a high quality 24V universal SMPS. It takes an input of 86-264VAC at 47-63HZ via a standard IEC320-C14 "Kettle Plug" AC inlet. It outputs 24V via a P1M Barrel Connector.
A 6' power cable is included fitting with your selection of US/CA/MX/JP (Type B), EU (Type E), or AU/NZ (Type I) AC plugs. If you have a different plug type in your country, you'll need to borrow an IEC cord ("kettle plug") from your least favorite piece of equipment or use a plug adapter.
Why this power supply?
Nelson Pass tested several candidates for our "new and improved" Amp Camp Amp power source, and this Meanwell GST120A24-P1M power supply had the best performance of all the candidates. Compared to the old power supply, this one:
More power - about 7wpc
Improves signal to noise ratio
Runs cooler
Comes with a 3 year warranty from a brand well known to be one of the most reliable in the industry
Who is it for?
It is a suitable upgrade for all previous, current and future planned generations of ACA (see note below), and will plug straight in to all previous Amp Camp Amp DC jacks.
It will also drive several other as-yet-undeveloped amps we have on the drawing board for the future. You can consider it an investment in a quality 24VDC power building block that will not be made obsolete for a long time.
About the manufacturer
Unlike most PSU manufacturers, 99% of MeanWell's business comes from sales of power supplies bearing the MeanWell name. Over 40 years they've grown to be the 5th largest PSU manufacturer in the world, and the only one in the top 5 who sells supplies using their own brand name.
The result is a brand that has become synonymous with quality and you can be assured that purchasing this PSU is a long term investment in quality power for your projects, and testament to that is the fact that they back this PSU with a 3 year manufacturer warranty. 
Features
No load power consumption < 0.15W
Short circuit, overload, over voltage and over temperature protection
3 year warranty
Specifications:
Model:

GST120A24-P1M

Output Voltage: 24V
Output Current: 5A
Output Power: 120W
Input Power: Universal 86-264VAC 47-63HZ
Dimensions: 67 x 35 x 167mm
Weight: 580g
Certifications: CB/CE/EMC/FCC/TUV/UL
Working temperature: -30C to +70C
Notes for upgrading to 24V from 19V previous generations of ACA
"You can use also this supply on the original ACA, but you will want to adjust the DC value on the output up to 12V. You can also adjust the feedback resistor and bias resistors down to the values of the ACA 1.5."
To use the 24V PSU and also bring your ACA up to new 1.6 specification:
If you have a PCB that says revision 1.0, add bias resistor R15 (increases power to 6W)
If you have 1.0 or 1.0b, adjust R12 from 68k to 39.2k
If you have 1.0, 1.0b or 1.1, adjust the DC value on the output to 12V