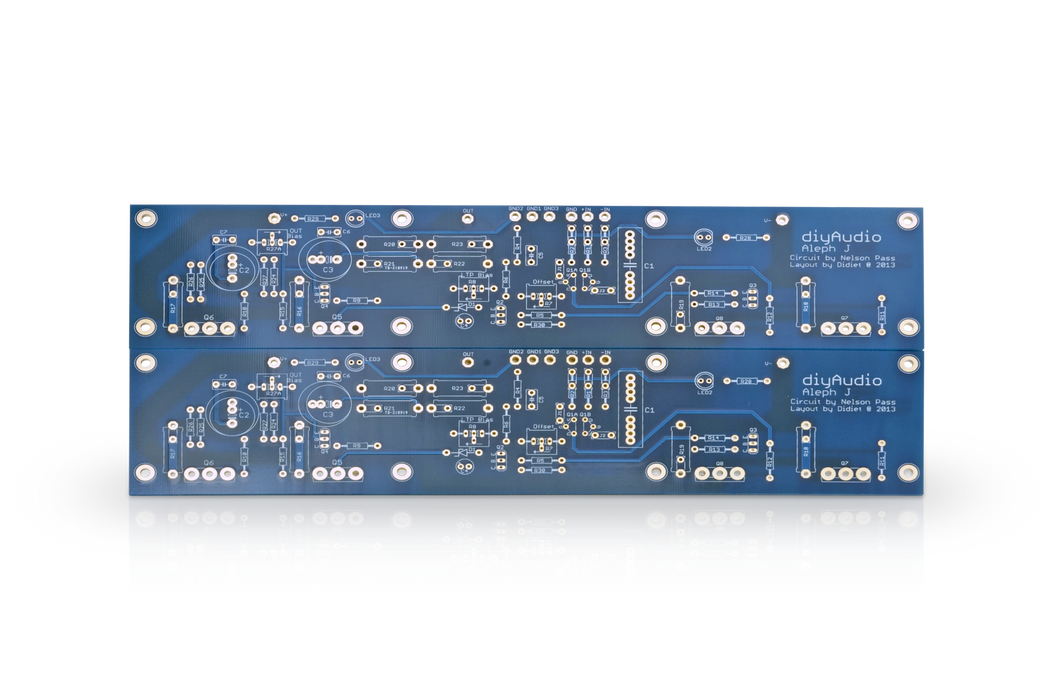 Aleph J
Original price
$ 25.00
-
Original price
$ 25.00
Availability:
in stock, ready to be shipped
This set of circuit boards will make the Aleph J amplifier of Nelson Pass. This amplifier is a direct descendant of the legendary Pass Labs Aleph 3, the amplifier that turned the audio press upon it's ear, brought single-ended amps to many people, and catapulted Pass Labs into the forefront of specialist audio engineering and construction, where it still resides today.
Populate these boards with your components, then add your own power supply, chassis and heat sinks to complete the amplifier. We now have a dedicated Aleph J MOSFETs and JFETs transistor kit.
Circuit description
The Aleph J is a single-ended, Class-A, MOSFET power amplifier, with a Jfet driver stage. It utilizes the Nelson Pass 'Aleph Current Source' to greatly increase the overall efficiency of the output stage, with the benefits of more linearity, a higher damping factor, and greater stability into tough speaker loads, doing all this with less negative feedback than it's predecessors. The Aleph J is a regular kind of amp - a voltage source amplifier, requiring nothing out of the ordinary from the preamp or the speakers.
Output power
As with most of the First Watt amplifiers the power output is 25WPC into 8 ohm.
PSU requirements
A Bipolar power supply of (+/- 24V) is required. This will require an 18V+18V (or 36V Center Tapped) transformer from 300-500VA, and PSU capacitance of 60,000uF per rail or more. A PSU for the F4, F5, or similar will be appropriate. See the build guide for details.
Chassis (heatsink) requirements
The 4U 'Jack of all Chassis' is ideal for this amplifier. If making your own chassis a good rule of thumb is at least 25sq inch (160sq cm) of finned heatsink per output transistor. (More is always better.) The diyAudio "Universal Mounting Spec" (UMS) is a common mounting pattern between the amplifier PCB and the heatsinks. If you utilize the UMS on your heatsinks or use one of the pre-drilled chassis from diyAudio, you will be able to quickly and easily mount different amplifier boards in the same chassis.
For example, a 4U 'Jack of all Chassis' with a 400VA, 18V+18V transformer and PSU board, will give you a power supply and chassis where you could try the F4, F5, F5C, Aleph J, and other Pass/First Watt amps in the future merely by swapping the amp PCB. The investment in Chassis and PSU needs only be made once.
Build Guide
An Illustrated build guide showing all sorts of useful information on how to build the Aleph J can be found here - Build guide
Useful Links
| | |
| --- | --- |
| Dimensions | Each board is 250mm x 54mm |
| Mounting holes | UMS Heatsink Compatible |
| Number of boards included | 2 |
| Layers | 2 |
| Board Revision | 2.0 |