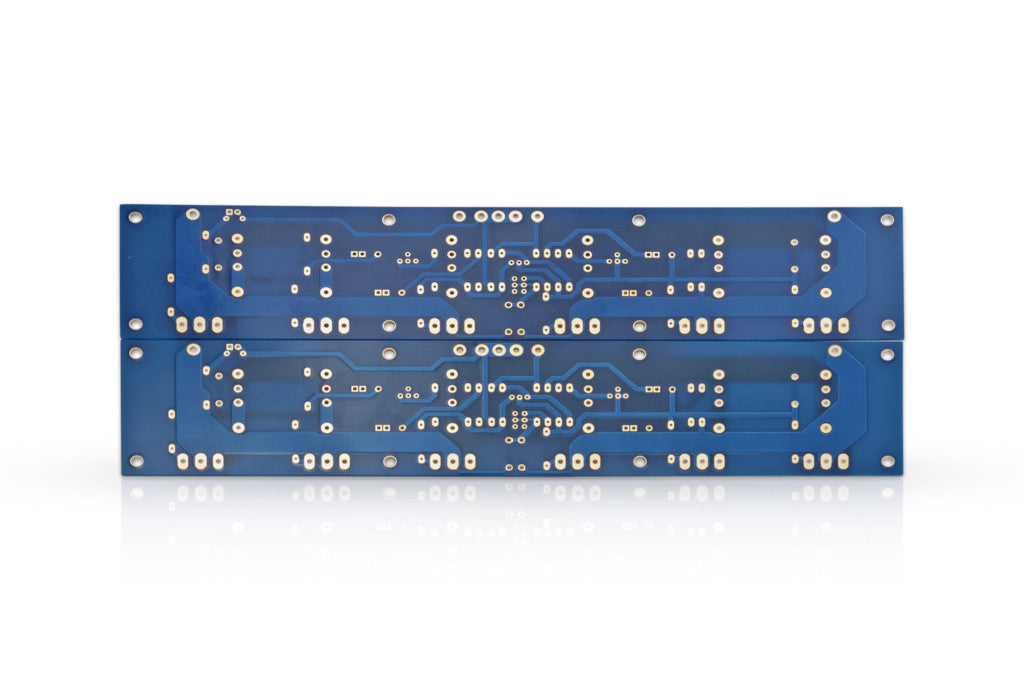 F-4
Original price
$ 25.00
-
Original price
$ 25.00
Availability:
in stock, ready to be shipped
This pair of F-4 Clone Boards use the same circuit as the Nelson Pass / Firstwatt F-4 model.
Circuit description
The F4 is a Push-Pull, Class-A, Mosfet power amplifier. It is unique in that all of the active devices (transistors) are connected in a 'source-follower' configuration, which makes the amp add very little sonic coloration to the signal, less coloration than most other arrangements.
It sounds very, very good, and is extremely versatile, as each channel can be used separately, or a stereo amp can be run balanced for high power. This is a current source amplifier - it can run any normal speaker, but the F4 needs a preamp that has voltage gain - a passive preamp or buffer will not drive an F4. This amp has no voltage gain so works best when paired with an active preamp that has reasonable gain.  Most preamp circuits from the 50's - 80's will have enough, and there are a number of DIY designs made specifically for the F4 as well. It can also be used on the output of a "flea-powered" tube power amp, keeping the tone of the tubes, but adding power enough to run normal speakers. The sonic signature of the F4 is as close to completely transparent as can be built - the tone of whatever you use to drive the F4 will pass though without any alteration.
Please read the Firstwatt F4 manual for more explanation on configurations and use, availiable at www.firstwatt.com
Populate these boards with your own components, then add your own power supply, chassis and heat sinks to complete the amplifier. These generously sized, high quality boards spread the six output MOSFETS for efficient cooling. The mounting hole spacing is the same as all other diyAudio Version 2 UMS boards.
Output Power
Running as a stereo amplifier from a single-ended source, 25WPC into 8ohms
A stereo amp, running as a Monoblock from single-ended source, 50W into 8ohms
A stereo amp, running as a Monoblock from balanced source, 100W into 8ohms
Power supply requirements
A Bipolar power supply of (+/- 24V) is required. This will require an 18V+18V (or 36V Center Tapped) transformer from 300-500VA, and PSU capacitance of 60,000uF per rail or more. The PSU for the F4, F5, and Aleph J are all essentially identical. See the F5 build guide for details. (F4 guide coming soon!)
Chassis Suggestion
The 4U Deluxe Amplifier Chassis makes a great home for this amplifier, and has pre-tapped holes that match the circuit board and transistor mounting positions. The diyAudio "Universal Mounting Spec" (UMS) is a common mounting pattern between the amplifier PCB and the heatsinks. If you utilize the UMS on your heatsinks or use one of the pre-drilled chassis from diyAudio, you will be able to quickly and easily mount different amplifier boards in the same chassis. For example, a 4U 'Jack of all Chassis' with a 400VA, 18V+18V transformer and PSU board, will give you a power supply and chassis where you could try the F4, F5, F5C, Aleph J, and other Pass/Firstwatt amps in the future merely by swapping the amp PCB. The investment in Chassis and PSU needs only be made once.
Build Guide
An Illustrated build guide showing all sorts of useful information on how to build your F4 can be found here: F4 Build Guide. 
Links
Please see the F4 thread in the store support forum for any questions you might have and a definitive list of relevant links and resources.
Additional Information 
| | |
| --- | --- |
| Dimensions | 250mm x 50mm |
| Mounting holes | UMS Heatsink Compatible |
| Number of boards included | 2 |
| Layers | 2 |
| Board Revision | 2.0 |