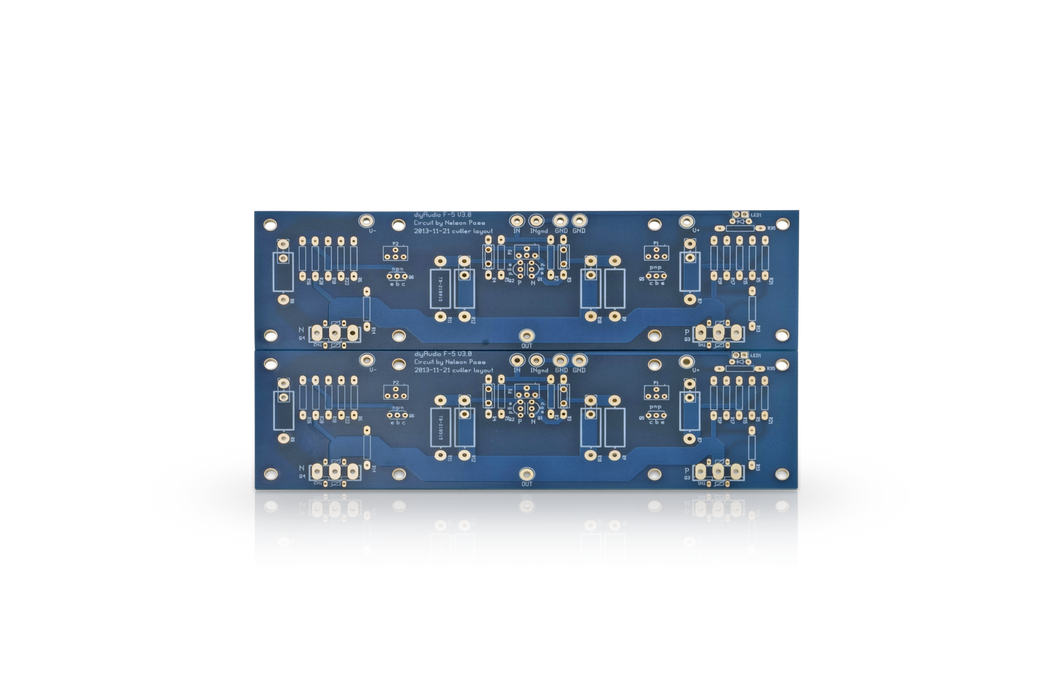 F5
Original price
$ 25.00
-
Original price
$ 25.00
Availability:
in stock, ready to be shipped
This pair of F-5 Clone circuit boards use the same circuit as the Nelson Pass / Firstwatt F-5 model.  This is V3.0 of the boards, and it should be assembled using the F5v3 Build Guide.
Circuit Description
The F5 is a Push-Pull, Class-A power amplifier. It is unique in that it has no capacitors in the amplifier circuit. The F5 is a voltage source amplifier, requiring nothing out of the ordinary from your preamp or speakers.
The F5 is probably the most popular amplifier being built on DIYaudio these days. It is simple to make, sounds fantastic, and has similar gain to many commercial amps.
Populate these boards with your components, then add your own power supply, chassis and heat sinks to complete the amplifier. The mounting hole spacing is the same as all other diyAudio Version 2 UMS boards.
Output power
25WPC into 8ohm
Power supply requirements
A Bipolar power supply of (+/- 24V) is required. This will require an 18V+18V (or 36V Center Tapped) transformer from 300-500VA, and PSU capacitance of 30,000uF per rail or more. The PSU for the F4, F5, and Aleph J are all essentially identical. See the F5 build guide for details.
Chassis suggestions
The 4U Deluxe Amplifier Chassis makes a great home for this amplifier, and has pre-tapped holes that match the circuit board and transistor mounting positions.  The diyAudio "Universal Mounting Specification" (UMS) is a common mounting pattern between the amplifier PCB and the heatsinks. If you utilize the UMS on your heatsinks or use one of the pre-drilled chassis from diyAudio, you will be able to quickly and easily mount different amplifier boards in the same chassis. For example, a 4U 'Jack of all Chassis' with a 400VA, 18V+18V transformer and PSU board, will give you a power supply and chassis where you could try the F4, F5, F5C, Aleph J, and other Pass/Firstwatt amps in the future merely by swapping the amp PCB. The investment in Chassis and PSU needs only be made once.
Please see the F5 thread in the store support forum for any questions you might have and a definitive list of relevant links and resources.
Change history
V1.0
V2.0 
V3.0
Change to F5 schematics from F5 Turbo article
Minor diagram change in NTC and limiter sections
P3 added to adjust N/P variations to reduce distortion
Relabelling of resistors to match schematics
Layout changes
JFETs moved further away from current traces
Hole for OUT moved to other edge of board to make it prettier and increase symmetry
Middle mounting holes removed
Additional Information
V3 information (the current board is V3)
Please note: The F5 V3 boards use the part numbering from the F-5 Turbo article, which is the latest official version of the F5.

The P3 is optional and only used for advanced builders with advanced equipment - you can leave it out if you don't have this equipment.

V3 Schematic (Included in the F-5 Turbo Article) (PDF)
V3 Schematic itself extracted from the F-5 Turbo Article (JPG)
V2 information to be used for reference only
| | |
| --- | --- |
| Dimensions | 170mm x 50mm |
| Mounting holes | UMS Heatsink Compatible |
| Number of boards included | 2 |
| Layers | 2 |
| Board Revision | 3.0 |