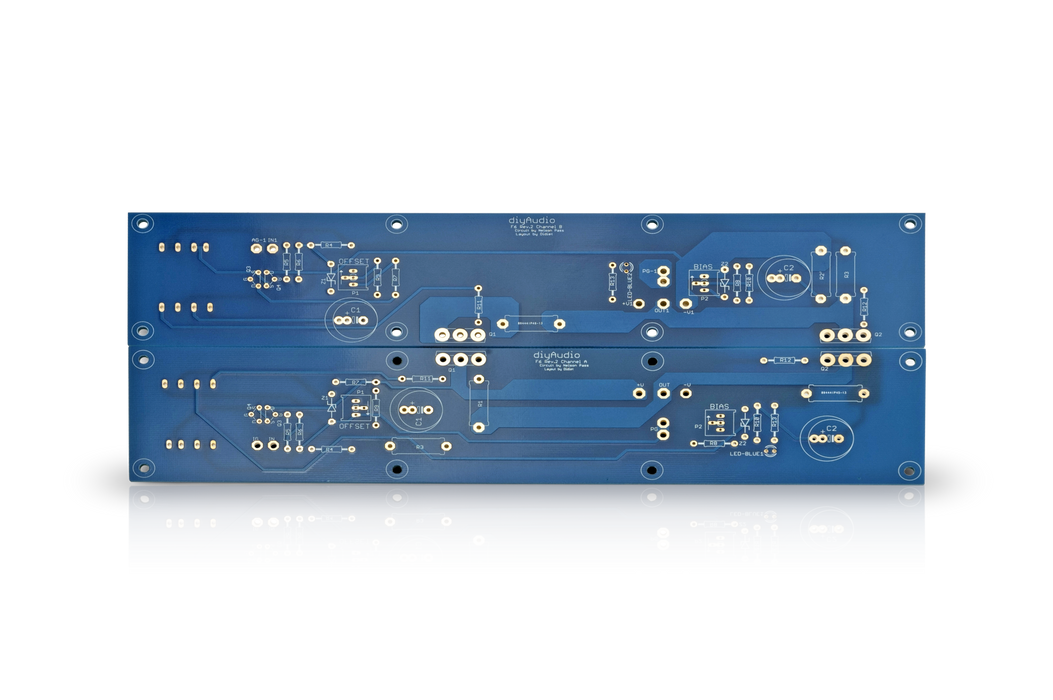 F-6
Original price
$ 25.00
-
Original price
$ 25.00
Availability:
in stock, ready to be shipped
Please note we have F6 parts / transformer kits now available (which include a pair of these PCBs).
These F-6 Clone Boards use the same circuit as the Nelson Pass / diyAudio FirstWatt F6 described in the diyAudio FirstWatt F6 thread thread.
This set of circuit boards will make a MOSFET version of the F6 amplifier of Nelson Pass. This amplifier is a new and interesting development from his creative mind, where a small collection of parts comes together to make amazing, beautiful music. This creativity and solid engineering has kept Mr. Pass, and his companies, Pass Labs and FirstWatt, at the forefront of specialist audio engineering and construction, where new and wonderful creations are made.
The original amplifier utilized extremely rare power JFET from SemiSouth, which will never be made again, and are all gone. Be warned, any eBay sources claiming to have the SemiSouth devices are fakes. If you happen to already have the power JFET, they can be used with this PCB.
Populate these boards with your components, then add your own power supply, chassis and heat sinks to complete the amplifier.
Circuit description
The F6 is a Class-A MOSFET power amplifier, with a JFET driver stage. It utilizes a small-signal transformer for phase inversion, so both the output MOSFET are N-channel. This transformer greatly contributes to the overall sonic character of the amp which is very highly regarded and considered to be similar and having all the benefits and positive characteristics of a tube amp... making some observers speculate that much of the positive 'tube amp' sound is the transformers, not the tubes. The F6 is a regular kind of amp - a voltage source amplifier, requiring nothing out of the ordinary from the preamp or the speakers.
Output power
As with most of the FirstWatt amplifiers the power output is 25WPC into 8 ohm. More into 4 ohm.
PSU requirements
A Bipolar power supply of (+/- 24V) is required. This will require an 18V+18V (or 36V Center Tapped) transformer from 300-400VA, (shielded transformers are preferred) and PSU capacitance of at 60,000uF per rail or more. A PSU for the F4, F5, or similar will be appropriate. See the F6 build guide for details.
Chassis (heatsink) requirements
The 4U 'Jack of all Chassis' is ideal for this amplifier. If making your own chassis a good rule of thumb is at least 25sq inch (160sq cm) of finned heatsink per output transistor. (More is always better.) The diyAudio "Universal Mounting Spec" (UMS) is a common mounting pattern between the amplifier PCB and the heatsinks. If you utilize the UMS on your heatsinks or use one of the pre-drilled chassis from the diyAudio store, you will be able to quickly and easily mount different amplifier boards in the same chassis. For example, a 4U 'Jack of all Chassis' with a 400VA, 18V+18V transformer and PSU board, will give you a power supply and chassis where you could try the F4, F5, F5C, Aleph J, and other Pass/FirstWatt amps in the future merely by swapping the amp PCB. The investment in Chassis and PSU needs only be made once.
Build Guide
An Illustrated build guide showing all sorts of useful information on how to build the F6 can be found here -- F6 Build Guide

| | |
| --- | --- |
| Dimensions | 250mm x 50mm |
| Mounting holes | UMS Heatsink Compatible |
| Number of boards included | 2 |
| Layers | 2 |
| Board Revision | 2.0 |