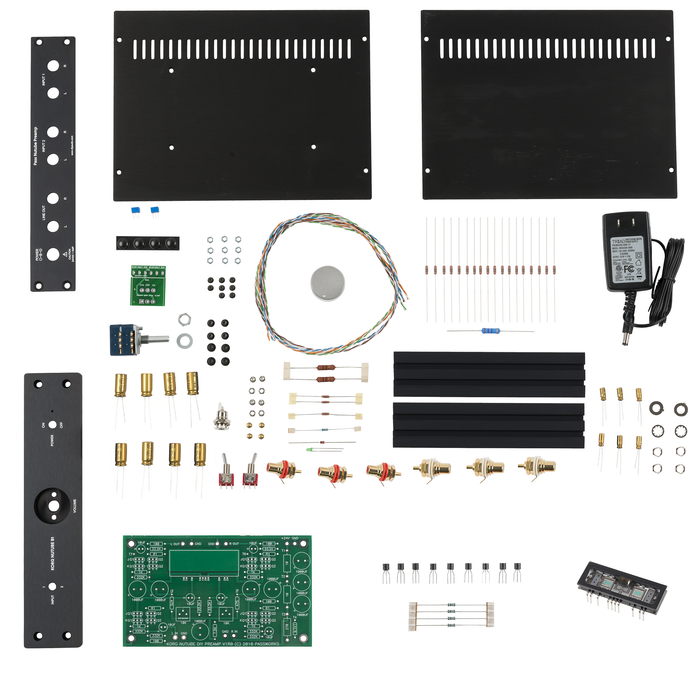 B1 with Korg Triode (B1K) Full Kit
Sold out
Original price
$ 299.00
-
Original price
$ 299.00
Availability:
Out of stock
At the Burning Amp Festival in 2017 Nelson presented a pre-amp using the Korg Nutube dual triode. The latest revision of the circuit available is now available complete with Fairchild JFETs and all directly supplied by Nelson Pass. 
Please check the following links for more information:
There are 4 elements to building a complete preamplifier. Purchase the elements separately, or all together as a "full kit" bundle for $299. To build a complete preamplifier you will need:
What's in the completion kit?
Everything else you need to complete the project other than the Nutube, PCB + JFETs and Chassis. It's an assortment of bits and pieces that joins the Nutube, PCB and Chassis together, turning the whole things into a "full kit", hence the name "completion kit". 
The included "wall wart" style power adapter supports an input voltage of 90-264V and has a US style plug. If you don't live in the US you will need to obtain a suitable plug adapter.
Each kit contains high-quality audio-grade parts that have been carefully chosen for their suitability for this project.
At the time of writing (November 2021), we're still in middle of a pandemic-related global-supply-chain traffic jam. These are predicted to extend until 2023. While we'd like to have everything match the build guide visually, quantities of some of the parts you see in the guide might not be available right now. In those cases we have included well considered substitutions. You'll have to use a little imagination when following the guide.
Discussion threads / Links: