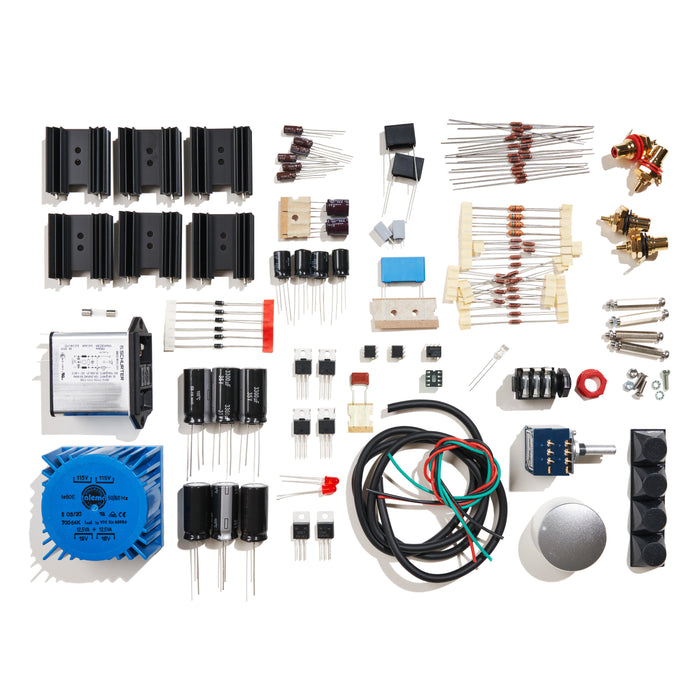 WHAMMY Completion Kit
Sold out
Original price
$ 179.00
-
Original price
$ 199.00
Availability:
Out of stock
Availability:
Out of stock
All the parts you need to complete the WHAMMY. It does not include the WHAMMY PCB or the WHAMMY Chassis.
Please note: We have not yet produced a build guide using these exact parts and the new chassis. However you can follow the original WHAMMY build guide and with some help from the forum to answer any questions you might have, you should be able to complete the build without too much trouble.
Completion Kit Details
The kit includes everything to make the amp except the WHAMMY PCB and WHAMMY Chassis. All components are of the highest quality.
Dale RN55 milspec resistors

Panasonic FE, FR, RC series capacitors
Elna SILMIC II capacitors
Nichicon capacitors
Solid aluminum anodized volume knob
Alps "Blue Velvet" potentiometer
Talema 70064K 115V/230V transformer
Neutrik RCA connectors
Schurter filtered power entry module with spare fuse
TRS Headphone Jack with black and red nuts
IRF610/9610 Power MOSFETs
New Japan Radio

NJM4580DD

op-amp

Silicone insulated high strand OFC

for I/O connections
Mogami mic cable
All nuts, bolts and standoffs to attach external connectors and the PCB to a chassis

Op-amp socket
Grounding bolt, nut, lock washers